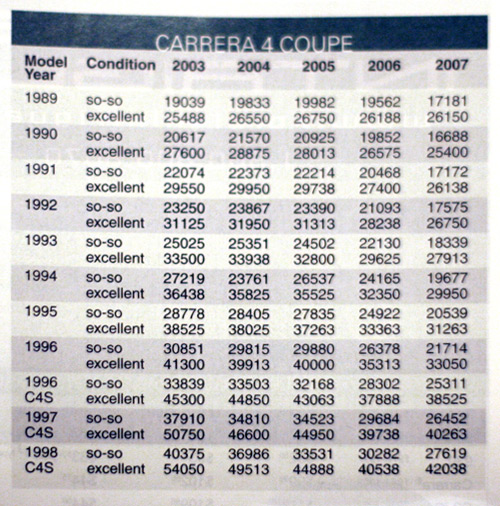 So I'm sitting in the hospital...
Rushing out the door to an appointment that would require a lot of waiting, I grabbed what I thought was the latest edition of my Excellence Magazine. Turns out April is out (must be in the house someplace), so I was reading Februarys issue. The GT2 article was cool. The 944 Turbo really has me wanting to check them out again. It was the 1989-98 911 Market Update that really caught my attention. I've provided a scan of the chart that specifically impacts me; Carrera 4 Coupe. If we bring our attention to model year 1989 we notice Condition of Vehicle stated as "so-so" to "excellent" and then the values by year starting with 2003 and ending with 2007. So, in 2007 my vehicle (stock) ranged in values according to Excellence Magazine from $17,181 - $26,150.
Huh. Lets take a look over at my cost list shall we... you know what, I'll save you the click; bottom line (which doesn't include some additional maintenance which would push that number up by a couple grand) $39,354.13. That include the purchase price, maintenance, delivery, misc. It's a ballpark because I'm not including gas or insurance (yet). Anyway, getting back the point, even if I were to rate my vehicle as "perfect" and tap out the extreme, I'm still $13,204.13 in the hole. Now, this is where I was getting at... I've invested in the high-performance-re-build of my engine... installation of quality stereo/speaker/iPod hookup... turbo side mirrors (I'll get to that in a later post)... basically, I'm not trying to keep her stock. So does that rating apply, or is it just a general ballpark in itself?
I hate to refer back to my mother "...it's only worth as much as someone will pay you for it..." I realize that. And lets talk about intrinsic value? One more year and she will officially be a classic. And she is the car that helped Porsche burst back on the scene after a lagging 1980's. And she's my favorite 911 body style; hands down.
Dave Hillman dedicated a section on his site that speaks to the pro's and con's of buying a used car and it's value (he was speaking in reference to his 912 he purchased). I really like this quote:
"New cars depreciate. Old cars require maintenance. They sell a lot of new cars so people don't have to fix them. People keep old cars in hopes the the maintenance is less than the depreciation is less than the maintenance cost."
So I don't think I'll run though the exercise of attempting to appraise my vehicle just yet because I'm not selling her anytime soon. My plan is to never sell her. For insurance purposes (we have had a few conversations) my vehicle is what it is. The only reason I care in the least is if the unforeseeable happens, what would it cost to replace my baby... as she is today. I'm good with how things are.
So what if I could have 2 C4's for the price of the one I currently have? That's simple a bad way of looking at it... the C4 I have (soon to have back) is unlike any C4 on the road... she's mine, and you can't have her at any price... yet.